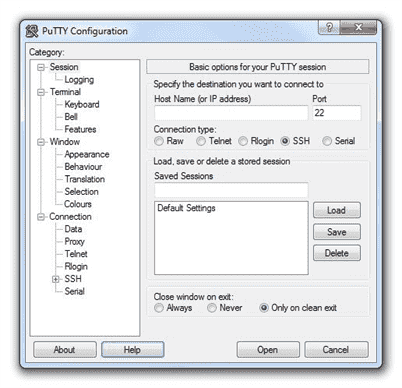 SSH or secureshell is one of the best ways to communicate confidentially over the Internet provides a secure channel between sender and receiver, and use encryption techniques to make the procedure safer. SSH is a protocol and there are different clients are available to run and carry out or order to work on this protocol on different operating systems like Linux, MAC, Iphone and Windows.
Well on this occasion I tried to give some SSH client that works on Windows and Linux operating system, you can try and choose where SSH to suit you.
Putty
PuTTY is a free implementation of Telnet and SSH for Windows and Unix platforms, along with an xterm terminal emulator. PuTTY 0.61 is out, after over four years, with new features, bug fixes, and compatibility updates for Windows 7 and various SSH server software.
Bitvise Tunnelier
Bitvise Tunnelier is a fast, easy to use and robust SSH client that offers flexible TCP/IP tunneling support. Tunnelier incorporates an FTP-to-SFTP bridge which performs translation between the FTP and SFTP protocols, allowing any FTP client application to connect securely to an SFTP server through Tunnelier.
BitKinex
BitKinex is a freeware SFTP Client for everyone who wants to speed-up his SFTP-related tasks. It does not matter whether you are a power user managing many SFTP servers or just a beginner creating his first web site. BitKinex will guide you through the world of SFTP safely and with ease, providing you with benefits not available in today's SFTP clients.
OpenSSH for Windows
OpenSSH for Windows is a free package that installs a minimal OpenSSH server and client utilities in the Cygwin package without needing the full Cygwin installation. The OpenSSH for Windows package provides full SSH/SCP/SFTP support. SSH terminal support provides a familiar Windows Command prompt, while retaining Unix/Cygwin-style paths for SCP and SFTP.
WinSCP SSH for Windows
WinSCP is an open source free SFTP client, SCP client, FTPS client and FTP client for Windows. Its main function is file transfer between a local and a remote computer. Beyond this, WinSCP offers scripting and basic file manager functionality. It has a graphical interface it supports basic authentication.
Cygwin
OpenSSH (SSH1 and SSH2 protocol) with Cygwin can run on Windows using the portable version of OpenSSH, which can be either built from source or installed as a Cygwin native package. Several other packages of OpenSSH on Cygwin exist; one that is actively maintained is copssh.
Web based SSH Client :
http://www.serfish.com/console/
http://www.rz.uni-frankfurt.de/internet/...b-ssh.html
Firefox Adons :
http://firessh.mozdev.org/
Sumber: http://freevps.us/thread-4480.html